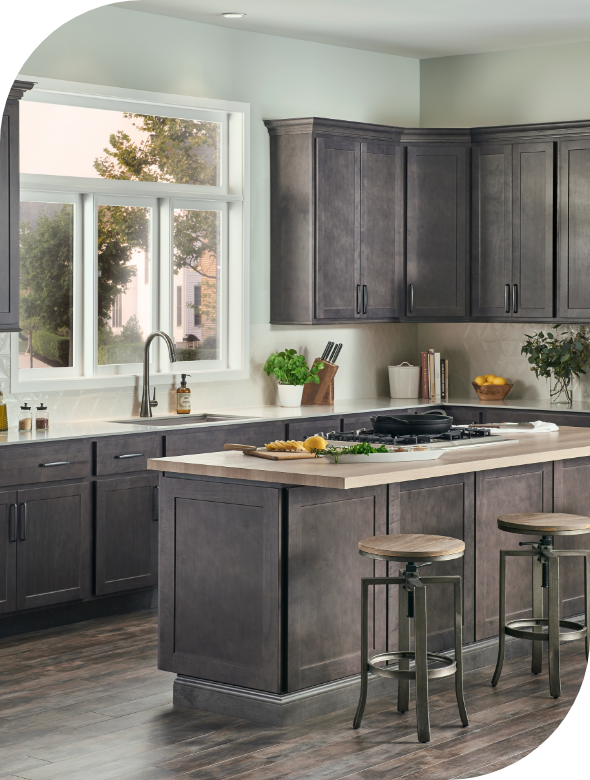 You have long been dreaming of a custom built, luxury kitchen.
You've been fantasizing about the color and finish of the cabinets; the perfect style that will blend beauty and functionality, creating a kitchen that adds pleasure to your cooking, baking and family gatherings.
But the price of a custom kitchen is prohibitive; will your luxury kitchen remain a dream?

Enter Ready To Assemble Kitchen Cabinets. With a lot less money, and only a little more effort, you can have that dream kitchen you've envisioned for so long.
RTA Kitchen Cabinets are high quality wood cabinets sold to you at a fraction of the price of custom cabinets. Along with our cabinets, we offer a free, no obligation kitchen design service.

With our exceptional customer service, you'll have your kitchen designed and put together promptly. We offer both assembled and unassembled cabinets which are sturdy and strong, proven to stand the test of time- no chipping corners, peeling finishes or broken hinges in your luxury kitchen.

Whether you are a private homeowner or a kitchen contractor, we'll provide you with superb quality cabinets that look like custom, feel like custom, and will last like custom cabinets- but you'll save 40%-60% on regular retail prices.
Get My Free Kitchen Design
Should I buy assembled or unassembled cabinets?
Ready To Assemble Cabinets
Assemble and install yourself
Lower prices

Faster shipping

Great for DIY guy

Better prices & quality than leading retailers
Shop Unassembled Cabinets
Assembled Cabinets
Arrive assembled, needing only installation
Great prices

High quality

American made

Better prices & quality than leading retailers
Shop Assembled Cabinets
All cabinets are made with solid wood or plywood construction, so you can enjoy them for many years to come. Our assembled cabinets are American made and higher quality than leading retailers, yet easier on your wallet.
Design your Kitchen:
Send us your measurements and requirements, and we'll get back to you within 24hours with a free kitchen design.
Browse colors and styles:
Browse our large selection of sturdy, classic cabinets including various colors and different quality levels.
See a sample:
Order a sample door to see the color, finish and quality for yourself.
Finalize your choices:
With your kitchen design in hand and sample door approved, finalize your order.
Receive your cabinets:
Some of our unassembled lines can ship out as fast as 1 week and will definitely be with you in 2 weeks, or if you've ordered assembled cabinets, shipping will take around 3-4 weeks.
Assemble & install your cabinets:
Assemble and/or install your new cabinets using our helpful video assembly guides, and hey presto!
Enjoy your new kitchen:
Your dream kitchen has become reality.